Users Already Registered In An Events Can Still Register In The New Event.
Description :- User registered in the system can still register in a new event. In other words, this user can re-fill the registration form for any new event even though he have already registered once in the past event. We have seen many users confused about why they keep getting an error stating that you have registered with us before and sometimes they don't get that message. Here i will explain the workflow and why this happens.
On a Generic Registration page, which looks like as shown below: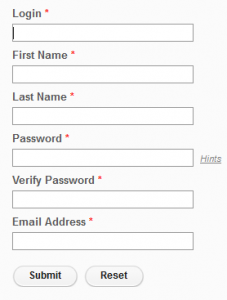 User will Enter his email address and create a password for this Event. Let say this event is Event A. Now if this user wants to access another event and fills up the same details on registration page as shown above, there will be two scenarios which he/she will confront.
Scenario 1:-  If the user uses the same email address and same password to register, as a result he will be registered successfully and receives a message stating "Thank you for your registration request. Your information has been submitted to the event host. Please check your inbox for more details about this event."Just like as shown below :

Scenario 2:- If the user  uses the same email address and different password to register, as a result he will received a message stating "Email ID abc@abc.com is already registered with us . Please use your existing password to continue or use the forget password link to reset your password." Just like as shown below :
You probably have noticed that on the registration page when you register for an event you will see it indicates a message stating, "If you have registered with us before, please Click Here" as shown below :
If you click on this link you are redirected towards this page, which indicates "Enter your login/e-mail address and password below if you have previously registered with us. If you haven't previously set the password or don't remember it, please click forgot password link." as shown below: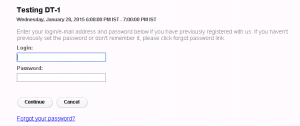 Remember : If you have registered with us before on an event which did not set your password. In other words, where on the registration page it was just asking your Email address, First Name and Last Name as shown below :
This means that the host who have created this event have set the property to register without setting a password on this event. At the time of creating this event he left this check box checked "Register Without Password":
Now in this case a user can register only by using his/her email address. Also, if he comes back later and try to access the Event B where password needs to be set, he will have to click on "Forget Password" to set his password because if he try to register by filling all the information again, on the reregistration page he will encounter the message as shown below :
This indicates that he has already registered with us before.
Understand the workflow here :
Basically when someone registers for an event consequentially a user is created in Connect system– so this means that login is from that point, is reserved in the system to identify that particular user. Afterwords, if the same user, same login, wants to register to another event he need to provide a password to match his username which is existing in the system.
When user registered in the past for Event B and now wants to register for Event A he should click on the link (click here). This will redirect him to the login form where he can initiate a forgot password workflow if needed. As a shortcut, if user missed the string above registration form, he may go ahead and enter his credentials (the same he used for EventB) and he will be approved to register so it ends in successful registration.
In simple words :
User registers on Event B form with same email address and same password, which was created on Event A in the past. Result : Successfully Registration.
User Registers on Event B form with same email address and Different password. Result : Already Existing in the system, cannot register successfully.
Hope this would help a lot of our users to understand the work flow of Event Registration System.
Thanks,