Audio broadcast in a meeting might sound robotic to participants
Issue Description :
Audio broadcasted in a meeting may sound robotic sometimes to some participants when they are connected via VOIP/microphones to hear the audio.
Environment:
Adobe Connect version 9.5 and higher
Operating System : Windows 8 and higher
Platform : Flash as well as Adobe Connect Addin any version
Root Cause :
Using Enhanced Audio option for the audio may sometimes result in inconsistencies in the audio in the meeting
Steps for Resolution :
1.  Launch the meeting room as a Host.
2.  Click Meeting menu tab and click Preferences.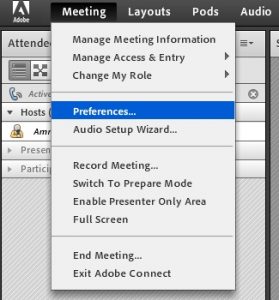 3.  Select Microphone from the left hand side panel and un-check option "Use Enhanced Audio".