How to Safeguard the Newly Edited State of a Connect Meeting
Objective: Save changes made to a Meeting room to prevent loss.
Environment: Hosted, ACMS, Managed ISP and On-premise
A registered Hosts who is a member of the Hosts system group should always select the End Meeting menu option instead of clicking the "x" in the upper right of the Meeting Addin or browser at the conclusion of a Meeting in order to insure the state of the Meeting is immediately saved and the Meeting processes terminated.

When a Meeting Host deliberately ends a Connect Meeting using the Meeting room Meeting menu option as depicted, the Meeting room state is saved and the supporting Meeting processes are ended.
If the Meeting Host ends the Meeting by clicking on Meeting >End Meeting menu option then the Meeting session is ended for all the users in that Meeting room; users will get a message stating that the meeting has ended. This action triggers the Connect server to save the state of Meeting and end the supporting processes. This is a safe and tidy way to manage Meetings; it ensures that the meeting is ready for next session along with all the content which was added during the previous session.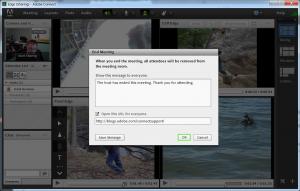 If a Meeting Host closes the Meeting room by clicking the "x" in the upper right side of the Meeting Addin or browser, then the Meeting will remain active until all users have left the Meeting room before closing.
The Meeting will wait for up to 12 hours before timing out and closing the Meeting room if participants keep open any Addin or browser sessions in the Meeting room.
Keeping a Meeting open this long runs some inevitable risks to the recently edited current state of a prolonged Meeting.
Additional Information: If there are multiple registered Meeting Hosts in a room, any host leaving prior to others may choose to Exit Adobe Connect as shown here to leave the Meeting unaffected upon leaving: