Adobe Connect Unified Voice and Cisco Call Manager
Most Unified Voice (UV) integration is between Adobe Media Gateway (AMG/FMG) and an external Session Initiation Protocol (SIP) server as depicted in the diagram below: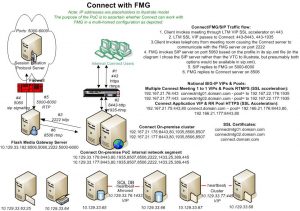 In the case of Cisco Call Manager (CCM), the AMG/FMG connection is commonly internal on the Local Area Network (LAN) based rather than external on the Wide Area Network (WAN) based as depicted below:
The LAN based flow is very similar to the WAN based flow. AMG/FMG to SIP for UV is simply replaced by AMG/FMG to CCM. Port 5060 must be opened between AMG/FMG and CCM for SIP communication and rort range 5000 – 6000 must be opened for the Real-time Transport Protocol (RTP) voice packets. DTMF mode RFC 2833 must be supported by CCM as well as by its carrier.
Specific CCM integration steps:
Create a username and password based SIP account on CCM
Login into CCM and navigate to Device -> Phone -> Add new

Select Third Party Basic Device
Select SIP profile as the Standard SIP Profile
Select Digest User as the LDAP ID of a User X
Check the block for  Media Termination Point Protocol
Navigate to User Management > End User
Search for the LDAP User ID of the SIP account
The user-id, LDAP User is the CCM SIP user
The pin is the password for the CCM-based SIP

Configure the Connect UV SIP account settings using the username and password of the SIP account. For additional help with setting up UV in Connect see the video tutorial: Audio in Adobe Connect Meetings