Adobe Connect X-Frames/Content-security-policy options explained
*** This article contains images. You may need to refresh the page to view them ***
Accessible in Adobe Connect Central under Administration > Account > More Settings.
This setting allows you to control how content in your Connect Account's Content Library can be used on external sites.
By default this setting is unticked meaning a webpage on another site can embed your content in an iFrame.
Depending on your requirements you may wish to disable this.
Ticking this option defaults to "The page can only be displayed in a frame on the same origin as the page itself" and SAMEORIGIN
This means that your Connect content can only be used on pages on your Connect server/account.
This may become an issue if you are using †he Events module and want to use images from your Content Library in your Event pages.
This is because Events pages are hosted on the AEM server, not on the Connect server. You might see an issue like this: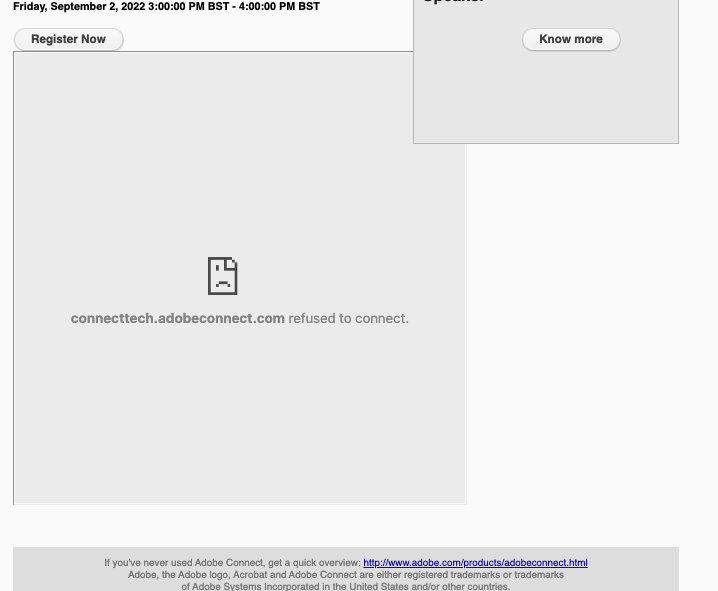 If you wish to apply x-frames / content-security-policy to your Connect server/account but still leverage uploaded Content on your Events pages you can use the second dropdown option labelled "The page can only be displayed in a frame on the specified origin/ancestor" and specify the domain name of your AEM server.
AEM actually consists of two servers, Author and Publisher, allowing for secure internal editing and publisc facing pages.
In the case of Adobe Hosted the AEM domains are both under adobeconnect.com. So you can enable this by using †he following setting:
For on-prem customers the AEM domains will obviously be different but the setting will be the same.