Set a Property to Play/Pause/Stop a movie in publish view on an Event Page.
Problem Description: Is there any property which we can set on our Flash Component on Author/Edit View which will allow users who can access the page and see the content on publish view to Play/Pause/Stop it ?
Flash Component on Side kick shown below :
When you drag and drop it on edit view, you can see the below property:

In other words, if user wants to stop/play/pause a flash movie running on a web page/publish view, event page. Is there any property we can set to achieve from the given picture above?
Solution:-
This is a CQ general component which is available in sidekick in general section so that while customizing the template user can associate the flash content to the page. You can see more menu options for controlling the playback of the movie by selecting the "show" option for the context menu property. So that when user will right-click on the movie they will see more option like to play/stop the movie.
See the below screenshot to set the show option to context menu –
Go to Advance tab in edit mode of Flash component and set this option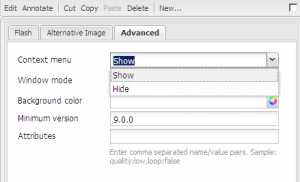 After set this property when right-click on movie it will show more option like –
So user can play/stop..etc..with available options.
Hope this helps,
Thanks