Meeting invitation Compose Email by default may have Account URL appended in the same line
Problem Statement :-
Meeting invitation Compose Email by default may show your "Adobe Connect Account URL" appended in the same line as the Meeting URL
Here is how it may appear in the Email :-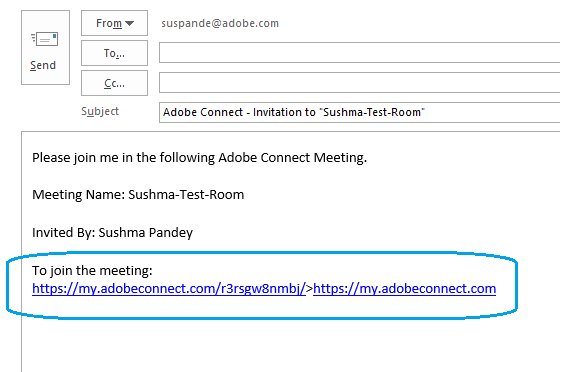 Environment : 
Adobe Connect Hosted/On-premise
Adobe Connect version 10.0
Reason Behind the Behavior : 
This is already logged as a known BUG#CONN-4109474 and under investigation by Engineering group. It is currently being anticipated to be fixed with the upcoming versions once the investigation is complete internally.
Additional Information:
We will update this page here once the exact deployment date becomes available. Feel free to contact the Support team for any further information in the meanwhile.