Dial out fail in MeetingOne audio Conference within connect meeting
Problem Description:
In Adobe Connect 9.7.5, dial out fails when using MeetingOne audio Conference when conference numbers in the audio profile are formatted using a dash "-", for example: 866-xxx-xxxx.
It throws an error: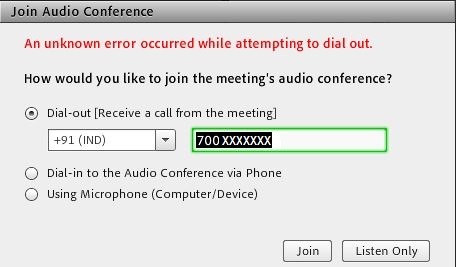 Environment:
Adobe Connect Hosted 9.7.5
Adobe Connect Telephony
MeetingOne Audio provider
Reason behind the behavior :
We have recently discovered a new bug which indicates this has happened post 9.7.5 upgrade.
Solution:
This issue is still being investigated by our engineering team.
Workaround:
Remove "-" from conference number like 866xxxxxxx and save the audio profile.
Additional Information :
The BUG is under investigation by our Engineering team with High priority and we will update this link once we have further information.