A recent report by the Content Marketing Institute and Adobe found that successful marketers are using webinars to deliver thought leadership content and 50% of marketers report plans to incorporate more webinars into their content marketing mix. So when I attended a webinar this month during which a panel of experienced marketers discussed opinions and best practices for producing webinars as part of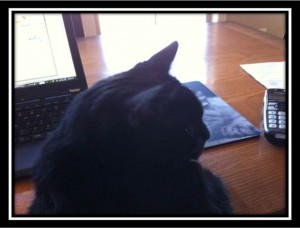 their lead generation efforts, I was quite surprised at the panel's reaction to the moderator's question about where each of the panelists thought webinars belonged in the marketing funnel. Almost every member of the panel firmly believed webinars only made sense at the bottom of the funnel and seemed to only have experience with bottom-of-funnel webinars (mainly demos and product tours). I could not help spontaneously and very loudly proclaiming 'you're missing a huge opportunity!'… to my cat. So, since my cat was wholly uninterested in my passionate disagreement with the talking heads on my computer, I'm going to share with you how to produce extremely effective webinars at the top of the funnel.
Contact acquisition: A webinar is simply a tactic – the content determines where a webinar belongs in the marketing funnel. If you plan to deliver a demo in the webinar, then of course that webinar is a bottom-of-funnel activity. However, if you deliver thought leadership or best practice content during a webinar, that webinar belongs at the top of the funnel. As content marketers know, delivering value to customers is the best way to attract new contacts into the top of the marketing funnel. A top-of-funnel webinar shares best practice or thought leadership content that helps solve a problem for the target audience and provides actionable takeaways that improve the quality of audience members' work.
[A Tip: Use a short registration form to collect contact information and then nurture your new contacts with mid- to lower-funnel programs to gather more intelligence and mature the contacts into sales-ready leads.]
Valuable first touch: Webinars are a dynamic way to deliver top-of-funnel content. They give new prospects a chance to interact with your company and discover your 'corporate personality' in a non-sales-pitchy way. Prospects can ask questions of the featured presenter and gain direct access to your staff and thought leaders in a way a whitepaper cannot offer. The main benefits of delivering content using a webinar is the engaging delivery, interactive possibilities and a chance to gain access to the speaker – so be sure that you plan to take full advantage of the delivery benefits during a webinar before you go to all the work to produce one.
[A Tip: To save time, consider repurposing existing whitepaper or research report content into a dynamic webinar experience.]
Tease out shoppers: While top-of-funnel webinar content is not necessarily designed to attract prospects that are ready to buy immediately, observing and tracking behavior during the live event enables marketers to identify those attendees that may be current shoppers, even at this early stage, and accelerate them through the sales cycle. For example, providing content such as a product brief for download during or at the end of a webinar helps sales and marketing understand which webinar attendees may be interested in your solution and ready for sales contact right away. Alternatively, or in addition, offering a 5-10 minute product overview immediately following the close of a top-of-funnel webinar (or perhaps during the last portion of the webinar) also teases out shoppers early. Buyers are all at a different stage of the buyer's journey, and the sooner you can identify current shoppers, the sooner you can accelerate them to a closed sale.
[A Tip: Webinar platform capabilities for tracking in-webinar content consumption (other than the main presentation) helps marketers identify attendees ready to accelerate.]
Accelerate the sales cycle: The dynamic content delivery nature of webinars allows for several opportunities to accelerate prospects through the sales cycle. Providing product information in the form of files or web links during top-of-funnel webinars is a passive way to allow attendees to self-accelerate through the sales cycle. Have a strategy in place ahead of time for which content to offer during the live event for assisting attendees to accelerate themselves. In addition, having a very clear call to action for a next step (perhaps a product demo) at the close of a webinar is another important way to accelerate webinar attendees through the buyer's journey. You might also consider inviting a sales rep to attend a thought leadership webinar to field any product questions that arise. This allows the rep to seamlessly continue that conversation offline (perhaps even set an appointment right there on the webinar) and bypass the time lapse between the live webinar and the lead hitting the sales rep's CRM lead queue.
[A Tip: Keep in mind that any product-specific content should not be the main focus of a top-of-funnel webinar and should be provided non-overtly.]
Related Posts:
Webinars: They're Not Just for Leads Anymore
Webinars' place in the B2B content marketing mix