Are webinars a good lead generation tool and, if so, where do they fit in the overall B2B content marketing mix?  As with most things, the answer to this is – it depends.  Once you've decided that webinars as a tactic belong in your mix for the rich and engaging experience they provide, then it's just a matter of adding the content to decide exactly where they belong in your marketing mix.
The first question to answer here is 'why a webinar'?  A webinar fits into your B2B marketing mix if:
Interaction with prospects is desired and beneficial
You want to increase the memorability of your content via an immersive content experience
Providing content or adjusting content on the fly based on interest is advantageous
Your product or service is complex and is best demonstrated or explained live
Decision makers at the end of the buying cycle will benefit from receiving live answers and resources to their remaining questions
You need to move a marketing event online and maintain a rich and engaging experience
If any of the above criteria are met, then we move on to where exactly webinars fit in the marketing funnel.  To answer this you really have to turn to content.  Webinars are a tactic, and in and of themselves do not determine where they belong in the marketing funnel.  Once you decide that webinars as a tactic are a good fit for your mix based on the above, then you move on to content, purpose and goals. Consider the following webinar 'flavor' examples based on content theme:
Thought Leadership: You might want to establish thought leadership in your industry by inviting luminary experts to share their expertise with your target audience, or having internal experts review case studies and share best practices. This is a great way to provide value to your target audience and begin building a relationship with potential buyers.
Educational: If you have a new product or service (especially in a new product category), you may need to educate your target audience on how the new product solves a problem they may not even be aware exists.
Solution: Generate awareness around one or more solutions that your product offers which your target audience is not yet aware of.  Providing a solution overview of benefits specific to the pain points of a target group currently not using your product for that solution can expand current customer use of the product or open up new areas of growth.
Demonstrations: Later in the buying cycle a product or service demonstration may be required either to show the product or explain the benefits.
Training:  If new customers need training to be successful with your product or service, webinars are a nice way to deliver training in an interactive, cost-effective and convenient way to improve customer satisfaction and retention.  If you have a trial program, you might consider supporting the trial with free training as an unused trial is a wasted opportunity.
You may even have several different 'flavors' of webinars woven throughout your marketing funnel.  In the end, your marketing funnel could look like this: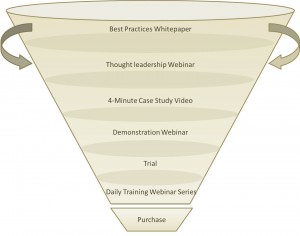 I'm sure you can think of other content options unique to your product or service that fit well with the webinar tactic.  As you decide where to fit webinars into your funnel, keep Content in mind and place each type of webinar appropriately in the marketing mix based on what a typical buyer for your product/service would like to see at each stage of their buying cycle.
Now you have to decide which webinar registrants are contact acquisitions and which ones are sales-ready leads. More on this in my blog post next week…