As more and more agencies move their conferences online, the conference sponsorships will have to move online as well.  However, I don't see this as a challenge.  In fact, I believe sponsors may receive an even greater benefit from virtual conference sponsorships due to the in-depth tracking and segmentation available via virtual venues.  Just like you would hang banners and post signs at a physical event, you can 'hang' logos and digital banners in a virtual keynote session or breakout session. Fortunately the value does not stop here.  Consider these six ideas for building and selling sponsorships for a virtual conference:
1. Sponsor Keynote or Breakout Session: This is one of the more obvious options and easy to implement.  Here are four ways to brand a virtual session for a sponsor: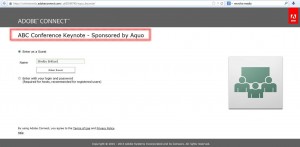 Virtual Room Name: Give the sponsor of a keynote or session recognition on the 'front door' of the virtual room by including the sponsor's brand in the name of the virtual room.

Custom Session URL: Go even further by using custom URLs to give each session its own unique URL that includes the sponsor name (ie. abcconference.adobeconnect.com/aquo_keynote)
Room Background: Change the background of the virtual room to a custom background provided by the sponsor of the session. Here you can see a custom green background with the Adobe logo imposed on it as an example.
Logo in the Layout: Take advantage of the ability to upload pictures by displaying a sponsor logo in the virtual rooms. In the example I've added a Powered by Adobe Connect jpg.
2. Marketing Emails and Event Updates/Reminders/Confirmations:  Customize promotional emails as well as event updates, reminders and confirmations with the sponsor(s) branding or advertising just like you might for a physical event.
3. Event Microsite: Just like a physical conference would have an online event microsite to display event information and registration options, sponsors can receive recognition or advertising on the virtual conference microsite. Considering using a rotating banner of sponsor ads on the main catalog page.
4. Sponsor Content: Add sponsor content like website links, whitepapers or solution briefs to any of the virtual rooms for attendees to take away or save for later. These items will remain available in the session recordings as well.
5. Sponsor Lounge: Give each sponsor their own virtual room to use as a lounge or virtual 'booth' where attendees can stop by (much like an exhibit) during breaks and exhibit hours.  These dedicated virtual sponsor rooms can include all types of content the attendees can explore and use to interact with the sponsors:
Videos or PowerPoint slides attendees can watch or flip through on their own
Chat functionality for interaction between sponsor reps and visitors
File share pods for downloading content about the sponsor – such as whitepapers, solutions briefs or case studies
Weblinks pods providing links to the sponsor's website
Polls designed to qualify visitors
Streaming webcam video of sponsor rep manning the 'booth/lounge'
Complete branding – of course these sponsor virtual 'booths' can be fully customized with the sponsor's branding
6. Complete and targeted lead lists: Finally and most importantly, conference organizers can give sponsors an entire list of registrants and attendees, or segment the list by specific session attendance, visitors to a sponsor's lounge, or by content download and poll answers.  Sponsors will receive not only the demographic information collected at the time of registration but also information on questions asked, content downloaded, polls answered, and length of attendance throughout the conference.
Hopefully this gets you started on creating valuable virtual sponsorships as you look to move your conference online.