The way people consume content has changed dramatically in the course of the last few years. DVRs have taught us that we can expect to watch content when we want it, at the pace we want. Mobile devices have taught us that we can watch content in smaller, bite sized pieces, wherever we are located. Social networks have exponentially increased the number of individuals across which we can share information and recommendations. Yet, most of the corporate eLearning world remains in an environment where training is delivered top-down, in a we tell you what, when, and where to learn" type of fashion, chained to rigid Learning Management System software.
Over the last couple of years, the Adobe team has been hard at work to put social and mobile at the heart of a new learning experience, and today, we are excited to announce a new offering, specifically designed around social and mobile learning: It is called Adobe Experience Manager Communities for learning – and provides an ideal way to broaden an Adobe Connect deployment, or extend the functionality of an existing LMS, with mobile and social capabilities.
Experience Manager Communities for learning is a complete social and mobile learning solution enabling trainers to rapidly disseminate insights across enterprise and channel teams, facilitate knowledge exchange, and measure results.
At the core of any successful social community is an experience that entices users to continue coming back to interact and contribute their own insights. In doing so, the community continues to flourish and grow in value. A key component to enabling this, is to ensure that relevant content is easily surfaced to each individual. Experience Manager Communities for learning ensures that the most relevant content is easily discovered by users, with dynamic content recommendations based on user profile information, tags, and activities; a streamlined interface with featured, assigned, recommended, and viewed content; and search that dives into metadata.
A rich catalog can be organized to store content in the most convenient way for end users to browse and find content – by topic, role, asset type, etc. – and is completely customizable. The system supports a variety of content types – across MP4 video (including Adobe Connect recordings), PDF, SWF (on desktop), HTML5 eLearning content, file links, and attachments. In addition, live Adobe Connect classes can be listed as a resource for easy access.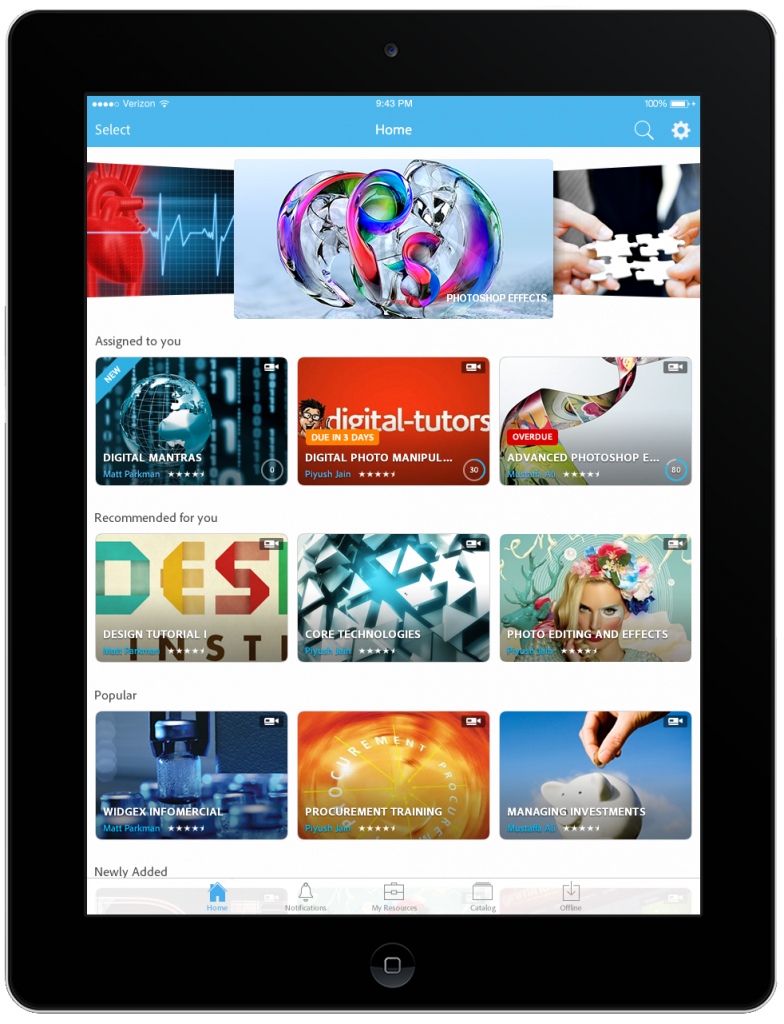 Rich, useful content makes communities more valuable
Of course, managing the content is also critical so that it is organized, secured, and delivered effectively across appropriate teams. Experience Manager Communities for learning comes with an embedded version of Experience Manager Assets (digital asset management) technology, so assets can easily be uploaded and managed from a central repository – leveraging the same technology that some of the world's largest brands use to manage content across their organization.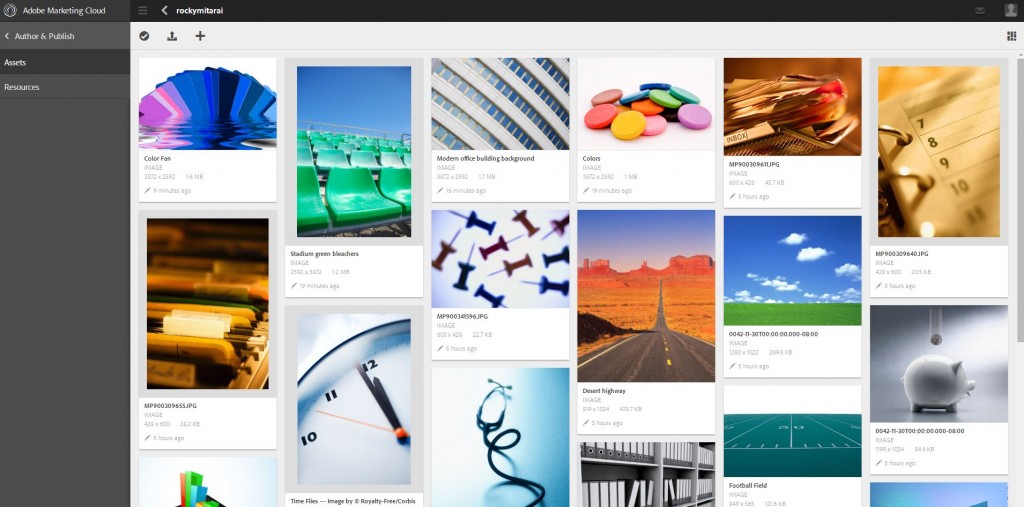 Powerful asset management capabilities ensure that publishers and authors can easily organize, locate, and share content
Experience Manager Communities for learning is not another social network for the enterprise – social interactivity is enabled directly while viewing content, so that users can immediately add questions, comments, ratings, tags, and other insights without going to another screen or joining a specific forum to do so. This streamlined method of interactivity makes it easy to share insights, encouraging knowledge sharing across peers and experts.
Communities for learning makes learning a social experience, helping to increase the knowledge of members across the community
The solution is accessible from anywhere, and is built with mobile in mind as a first-class client. This is not only convenient, but critical for those who are in the field, or a manufacturing floor, and need access to information at a moment's notice to complete their job effectively. Available for iPad in the first release, users can find and access content, complete courses, interact with others, and gain insights at the moment of need, from anywhere. Users can also download content for offline viewing and tracking, even when disconnected from the network.
Enable convenient and often critical access to knowledge from anywhere, with an experience built for mobile first
Both formal and informal training can be supported – enabling users to store, categorize, and publish content, including SCORM and xAPI (Tin Can) compliant eLearning content, form mandatory or optional consumption. Learner progress and scores can be tracked for certification, or integrate with a 3rd party system of record.
Across informal or formal training, the solution adapts to the needs of the organization
The solution goes beyond basic reporting of data that must be massaged to glean any insights – and leveraging in-built Adobe Analytics technology, provides rich analytics in graphical format across user engagement, content effectiveness, and top contributors within the community, to instantly identify trends, successes, and problem areas that can be acted upon immediately.
Analytics provide real-time insights into the value of content, community activity, and progress of members
Experience Manager Communities for learning is a turn-key solution enabling instant creation of communities to quickly drive ROI. It can be deployed as an on-demand (hosted), stand-alone offering, and leveraged immediately without any customization or development, or any prerequisite Adobe products sold separately.
This offering provides an ideal way to add social and mobile learning capabilities to Adobe Connect virtual classrooms, enabling a broader solution that supports both live and on-demand training scenarios.
In addition, it can also be purchased as an add-on to, and integrated with, a broader deployment of the Adobe Experience Manager platform and the Adobe Marketing Cloud. A separate blog post from the Adobe Marketing Cloud team can be viewed here.
The offering will be available in Summer 2014.