Adobe Connect 12.4 is an incredibly exciting release for the Adobe Connect team. It combines some really big new features with some huge improvements to the user interface.
There's a lot to cover, so let's take a look at some of the biggest improvements coming to Adobe Connect 12.4
Quiz Pod
Quizzes can be used in your Adobe Connect sessions as a tool to asses learner understanding, or, when combined with a leaderboard, as a competitive game-based learning tool. Adobe Connect 12.4 adds a new type of pod: the Quiz Pod. It's available in meeting rooms, virtual classrooms, and seminar rooms.
The Quiz Pod enables a host or presenter to create a quiz with up to 10 questions. Question types include:
Multiple choice
Multiple answer
Fill in the blank
True or false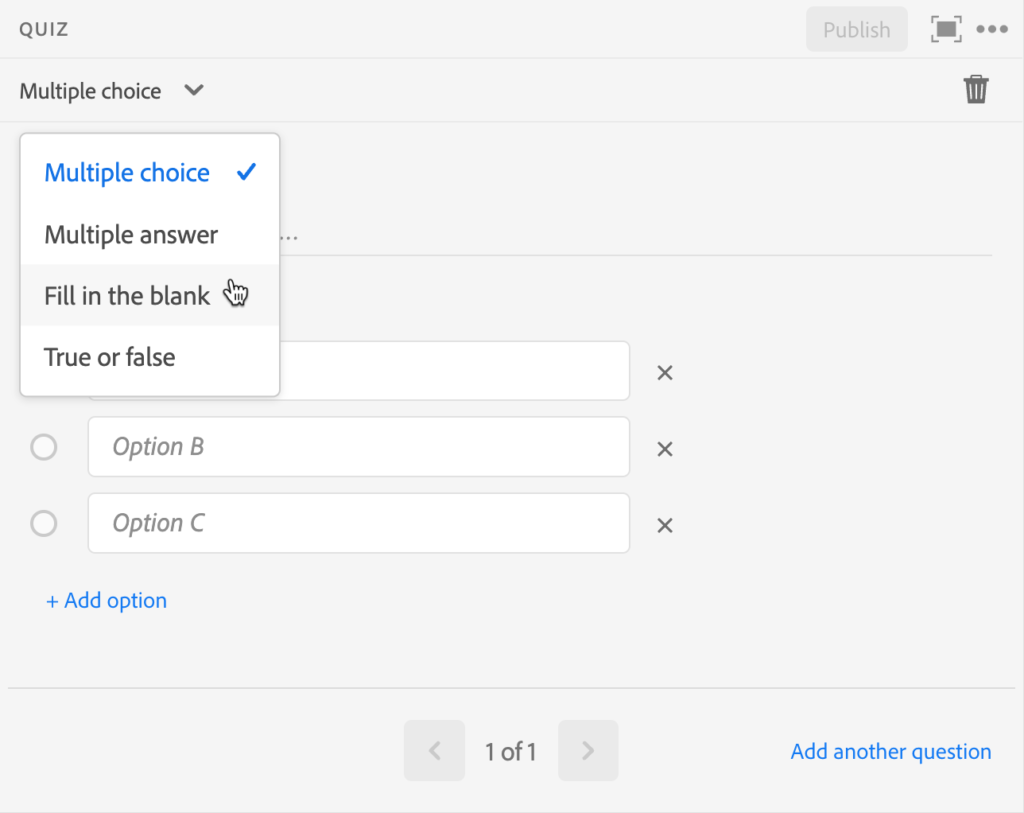 Once they've added their questions, they can manage the settings for the quiz. This includes optionally adding a timer, randomizing the questions, randomizing the options (the available answers), and configuring how the results are displayed.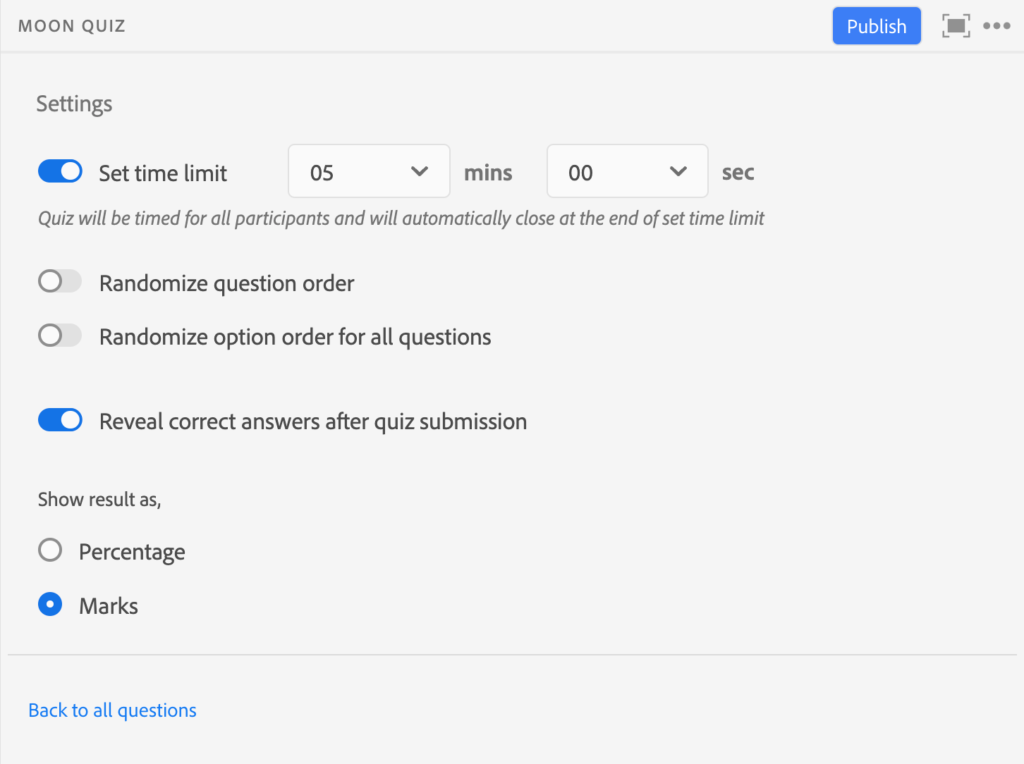 Learners will see their result and can review their answers to understand which questions were answered correctly (if the host enables this option).
Hosts can also enable a leaderboard option which displays results to gamify the quiz. Participants can compete on both accuracy and timing.
Automated Captions (beta)
Adobe Connect 12.2 made huge improvements to the captioning system in Adobe Connect. Captions could be overlayed in a separate window that optimized space. Participants could customize the size, color and placement of the captions, as well as download the transcript if the host enabled that option.
The captions needed to be generated though, and until 12.4, that required either using a captioning service or nominating someone in the virtual room to provide them.
Adobe Connect 12.4 enables a new option for providing automated captions, taking the audio from the room and converting it to text to be displayed as captions. The new service is both fast and accurate and is an excellent option for easily providing captions for those who choose to use them.
The option rolls out in beta in this update and is English-only for now. Support for additional languages is planned.
Updated Homepage
When you visit Adobe Connect Central – the web interface used for managing your rooms, events, content, and training – you'll notice a completely redesigned and updated look and feel.
The new homepage provides more guidance for new users, and makes your recently used rooms, recordings, events, and training easier to access.
The page also includes a redesigned navigation bar – which takes cues from the Adobe Connect room design with a black menu at the top, making the entire experience feel more aligned.
Finally, the page changes dynamically based on role. An administrator or Event/Training manager can view the page as a learner to see what they would see after logging in.
Enhanced Event Templates
Speaking of a redesign, we've also make some substantial changes to the event templates that are available for Adobe Connect events. You'll now have additional options for:
Event Catalog
Event microsite (Information, Registration, Speaker)
Event emails
All of the new templates are now responsive – which means they will adapt to any device, automatically reflowing your content and resizing images appropriately.
We've also improved the default template used for the microsite – consolidating 3 pages (Event Information, Speaker Information, Registration) into a single page that includes all relevant information.
Adobe Connect Recording Improvements
Your Adobe Connect recording experience is also about to get better. Adobe Connect 12.4 adds a new option to improve the quality of your recordings. In addition to up-levelling the resolution from 720p to 1080p, the new quality setting also increases the bitrate for overall improved quality.
It's now also possible to edit your recording timeline without having to download your recordings. We've added a new online recording editor that enables you to trim and cut sections from your recordings easily.
The new recording editor shows a preview as you scrub through the timeline making it easy to find sections to edit. It also enables you to make precise cuts using the arrow keys on your keyboard.
There's no need to send out a new link after editing, the link to the recording doesn't change. Better yet – no matter how many edits you make, it's always possible to revert back to the original version of the recording.
And more…
In addition to the features listed above, the team has been working to add lots of other updates to improve the product. We've added accessibility improvements, moved the video backgrounds feature out of beta, added several options to Administration and Compliance & Control, and resolved a number of issues.
It's one of the most significant releases I've seen since I joined the Adobe Connect team, and I know the entire team is incredibly excited to make it available to customers. We've been rolling it out to hosted customers through the month of June, and all customers should be updated by June 26th.
We'd love to hear from you. Let us know what your favorite new feature is.