The next release of Adobe Connect brings some great improvements, a few new features in beta, and many critical bug fixes.
One of the biggest changes is a new network detection system that is constantly monitoring each user's bandwidth. If there's a situation where they don't have enough bandwidth, they will be prompted to pause incoming cameras to ensure that audio, screensharing, and other aspects of the experience operate smoothly.
We've known since the release of Adobe Connect 12 that the new browser-based screen sharing feature works well in Chromebooks. With version 12.1.5, we're making it official. The team has certified ChromeOS as a supported operating system for Adobe Connect and we've added it to our Tech Specs page.
We're also excited to release some additional new features into beta. You'll find a new option on your meeting information page to enable these beta features.
The first of these features is the ability to share your screen with system audio.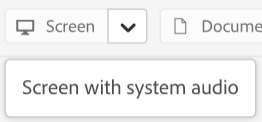 This feature will automatically send the audio from any application you're sharing, such as a video or other media, to all participants who will hear it through their own speakers. This feature is currently limited to the latest Windows application.
We have also introduced a new noise suppression capability in our desktop applications. When enabled, background noises such as fans, barking dogs, traffic, and more will be greatly minimized ensuring you sound great.
Speaking of sounding great, we've added another new feature that will notify you if it detects you're trying to speak while muted. This might help put an end to those circumstances where participants hear only silence instead of your witty retort!
One important caveat is that all of these new features require Enhanced Audio/Video to be enabled in your room.
Finally, we've also added a new Accessibility menu item to both the in-meeting help menu, and the Adobe Connect Central help menu. These link directly to our Adobe Connect Accessibility documentation and should make it easier for all users to find this information.