Today, I reflect on a zesty day of early Spring 2020, flying back from an exuberant technology summit on Virtual Learning Solution in London. That's when we all had to dishearteningly shut doors on physical human interactions. However, who knew, it will open new doors for the enormous possibilities of virtual interactions.
The new challenge of the global pandemic brought unprecedented momentum to virtual communication and its enabling technologies. In the process, the world of virtual and the needs of our customers evolved. Today we anticipate –
36.2 million Americans potentially working remotely, by 2025.
50% of Enterprise's Virtual Events will be held on meeting platforms, by 2025
100% Higher Ed Institutions will enable remote learning using collaboration tools, by 2023
The Adobe Connect team has been committed to powering every need for reliable, secure, and engaging virtual communication for our customers. As these needs evolve, we are committed to evolving with them.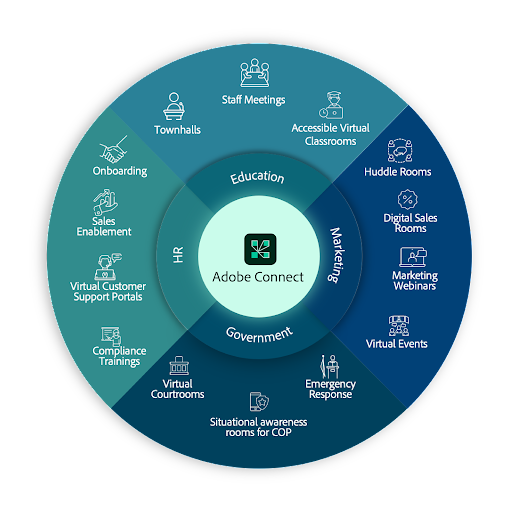 We've always been proud of our Engagement first engineering design, which allows users to redefine what's possible with virtual. And today, we are all set to enable greater value for our customers with a new, state-of-the-art reliability first technology architecture.
4 reasons to Turn ON the Enhanced A/V Experience (Beta)
Superior Audio: clear, high-quality audio with automatic noise cancellation and echo reduction.
Enhanced Video: high-definition video feeds with great clarity and resolution (up to 1080p).
Browser Advantage: seamless virtual sessions from any modern browser or Chromebooks including screen-share support.
Instant MP4 recordings: Access sessions recordings in MP4 format to download, view, and share on my device, instantly.
What's Changing?
We've upgraded to a modern cloud-native technology stack, optimized for scalable, reliable high-quality audio & video for users joining from any device.
When you turn Enhanced A/V Experience ON, your Adobe Connect rooms will be powered by this new technology stack.
This new media service architecture is engineered to progressively elevate user experience with –
Stable and resilient, device-agnostic, connections with live audio & video stream powered by WebRTC.
Modern Video & Audio Codecs enable low latency and high compression rates, supporting all modern web browsers.
Seamless Scalability with new global horizontally scalable infrastructure in the cloud enables dynamic auto-scaling in response to load.
Application QoS analytics – real-time & actionable user experience & network conditions metrics on stream quality and in-meeting experience, aggregating to overall experience scores. The backend visibility will allow us to continuously monitor and optimize the user experience.
Fast & efficient upgrades & maintenance Simplified footprint and centralized cloud deployments with more standardized and automated upgrades using dockers.
Impeccable Resilience – High availability network design with redundancy for seamless failover. Modern NoSQL databases for efficient handling of largescale reporting & analytics.
[Coming Soon] Better Telephony Audio – quality enhancements for SIP-based telephony voice with reduced hops & latency.
[Coming Soon] Network-Aware – Future enabled for simulcast with multiple adaptive bitrates (ABR) streams available to serve the most optimized experience for a user
How to enable it for your Adobe Connect rooms?
Hosts can enable this feature for their existing and new Adobe Connect rooms by navigating through the menu options as shown below. Make sure to click "Save".
The Host will also see a single click "Try Now" option upon entering a room that doesn't have Enhanced A/V Experience already turned ON.
All the support you need
Let us answer your queries
Bring your queries to this weekly live session, Office hour with Alistair Lee, every Wednesday 10am – 11am EDT – Recording
Send an Opt-In request
If you don't see the Enhanced A/V Experience (Beta) option in your settings yet, you can send us an Opt-In request using – Request Beta Access. The (Beta) feature will be enabled for your account in response to the request. All hosts would see an option to turn it ON at individual room levels. It stays OFF as default unless manually turned ON for each room.
What you should know
As we progressively approach a production release in summer 2022, this beta feature comes with known limitations and/or expected performance anomalies. We expect these to be addressed shortly.
While screen sharing from the native application, the image may be slightly blurry initially and resolves after ~ 15 seconds.
When ending a breakout, users sometimes take a while to reconnect back in the main room
Android mobile app support – coming soon!
Check out the detailed capability comparison of Standard View versus Enhanced A/V Experience – – Read more
Rollback options
If needed, account administrators will have an option to disable the feature at the account level such that hosts stop seeing the option to turn it ON for their rooms. Administrators can also exercise an Opt-Out if they choose to stay on the older technology platform when we transition to this new media service architecture as a default, with the production release upcoming in Summer 2022.
We are all ears
We intend to get even better. Please send us your feedback for this beta feature and enhancement requests at adobeconnectbeta@adobe.com.