If you have not experienced it already, it is my pleasure to acquaint you with about how Adobe Connect is continuously improving and innovating and this is just the start. This 11.2 upgrade brings a lot of those efforts to bear, both new capabilities as well as usability enhancements and fixes. See full list of fixes.
It was in June 2017 that Adobe announced the retirement of Flash, by December 31, 2020. The reason for the long transition was to ensure that none of the users had to step too far outside their comfort zone, too fast. Now that we're in 2021, Flash has officially left the building, which means Adobe Connect users can no longer join from old flash-based browsers like IE11. To join an Adobe Connect room, you need to either use a modern HTML-based browser or one of the new native applications for desktop/mobile.
Even though we could not have anticipated the difficult year that 2020 turned out to be, our transition plan was always set to allow our users enough time to make the move to HTML. From 2017 to the big release of Adobe Connect 11 in 2020 we have progressively moved towards a modern flash-free architecture and the next 6 months are crucial as the final leg of this transition as we help our customers complete their move to HTML – Learn more.
Adobe Connect 11.2
Adobe Connect 11.2 upgrade comes with 4 exciting new capabilities and other smaller enhancements –
New Native application for MacOS
Native Closed Captioning
Enhanced Audio option
Consistent user experience for all participants in a room with Standard View as new default.
New Native Application for MacOS
While Mac users have been able to use Standard view via a web browser for some time now, this new Mac App provides a richer experience with improved audio and support for HD video and more webcam feeds. The new application brings complete Standard View experience to Mac users while maintaining support for the Classic View till June 2021. We recommend that users update to the latest version of the application, which includes bug fixes and optimizations to provide the best Adobe Connect experience.
Native Closed Captioning
At Adobe, we have always believed in the power of inclusivity. Adobe Connect 11.2 now features Closed Captioning natively inside the application without requiring extensions or custom pods.. Captioning can be enabled by manual cautioners in various languages or by captioning services like StreamText. Participants have the ability to customise font size, colour and placement in compliance with WCAG 2.0 requirements. The captions with chosen settings during the session persist in the recordings and across all layouts. Watch & Share>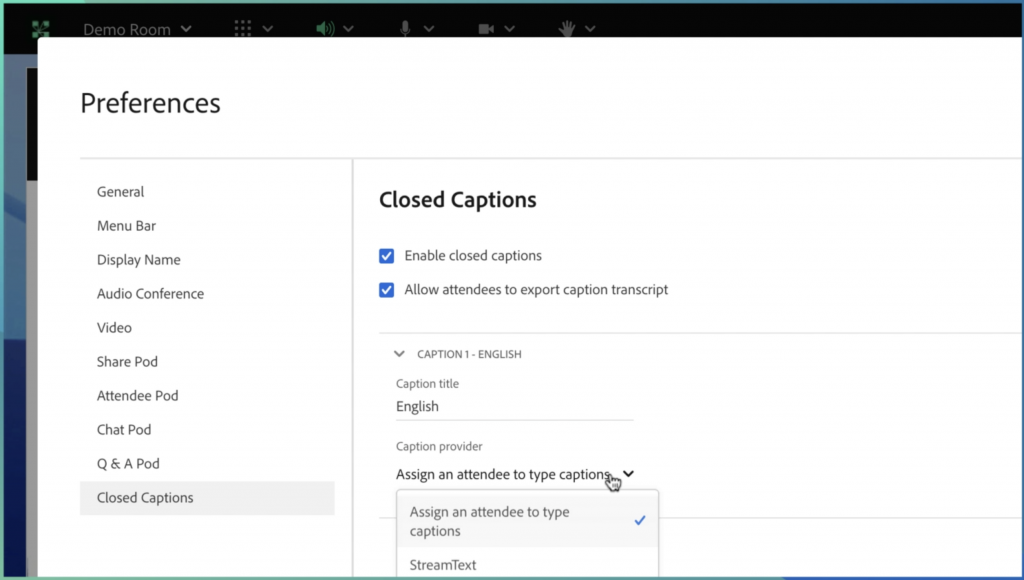 Enhanced Audio
Hosts and administrators can now choose to enable Enhanced Audio experience for browser and app participants using Voice over IP, Universal Voice, or Integrated Telephony. The modern audio codecs allow us to deliver remarkable improvement in audio quality with little discernible change in bandwidth.
The Enhanced Audio experience will be delivered using a modern audio codec for rooms set to Standard View. It is supported in the latest versions of Adobe Connect desktop applications for Windows, Mac, and HTML-based browsers. Upcoming in Spring 2021 we will be extending enhanced audio to Adobe Connect mobile applications and offline recordings.
Consistent user experience for all participants in a room with Standard View as new default
With Adobe Connect 11.2, all participants in a room will experience a consistent UI. New rooms will default to Standard View.  Old rooms will continue the pre-existing interface settings. The hosts or account administrators will have an option to disable standard view as default and use classic view until Jun 2021. Watch how to choose the right interface setting. Share this with other hosts and administrators in your organisations.
Usability enhancements in Adobe Connect 11.2
These smaller enhancements should make a big impact on your ease of use.
The Q&A pod made better with more efficient use of space, replay indicator, an option to see all answered questions at any time, and more. See the difference between 11.0 and 11.2 below.
The attendee pod in version 11.2 is more usable, making it easier to Select All or Clear All participants for breakout rooms with just a click.
The updated HTML recording editor for smoother and more precise functionality.
Meet Adobe Connect 11.2
When will your account be upgraded? Check the upgrade timetable with your account URL
We are so excited for you to truly experience the difference
Start your 30-day trial to experience the Real Virtual.