The Adobe Connect team is excited to be participating at Adobe Learning Summit again this year and we'd love for you to join us in Las Vegas for this fantastic event which brings industry leaders and practitioners together to share insights and learn from each other.
In addition to participating in the "What's New" general session, the Adobe Connect team is managing a Virtual Learning track with some great topics. I wanted to take an opportunity in this blog post to include the titles and descriptions for each of the sessions.
We hope to see you there. It's completely free to attend, so register today!
Session A105: Behind the Screens: Adapting for Virtual Delivery
If they're going to work in a virtual classroom, your traditional learning methodologies need a makeover. A virtual session is more than lecture and uploaded PowerPoints. Unique techniques must be used to engage learners throughout the session. A common pitfall is to focus on the technology and forget about the design and logistics—often resulting in unengaging sessions focused on using the tools and not meeting the needs of the learners.
In this session we will share real-world examples of adapting common face-to-face activities for the virtual classroom. Learn the considerations for design, set up, and delivery that are specific to Adobe Connects interactive tools. Experience what really goes on "behind the screens" during the production of a live online event, and how "Plan B" will save the day.
In this session we will discuss:
• Techniques to adapt traditional classroom activities for virtual classroom delivery using Adobe Connect
• Selecting the right Adobe Connect tool for optimal engagement
• The logistics behind the scenes and how that affects delivery
• The importance of developing a "Plan B" strategy to mitigate technology challenges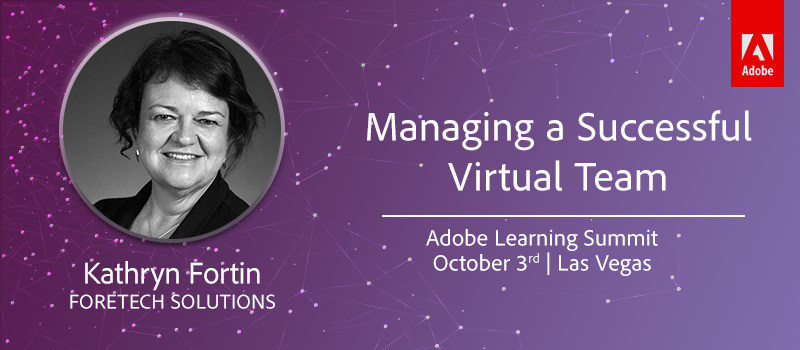 Session B105: Managing a Successful Virtual Team
How do you build a company culture with remote workers? How do you avoid failure when it comes to your virtual team? Are you aware of the differences when it comes to virtual teams vs. traditional in-person teams? How can you set up your virtual team for success? Virtual teams are on the rise and if you already have one, you know they come with their own set of benefits and challenges.
In this presentation, we're going to take a look at some of the common issues that arise with a virtual team and we'll also review the best practices of highly successful virtual teams, along with knowing the common issues to avoid that arise within virtual teams. You'll walk away from this session with new strategies and tips to better manage a location-diverse team.
Session C105: End-to-End Learning Experiences, and What It Takes To Create Them
Great experiences feel simple, seamless, and possibly even delightful. Designing great experiences, however, requires thoughtful and diligent, possibly tedious planning and execution. How do we identify and design for the best experiences we can offer to our learners, particularly when we as learning professionals already have a lot to do? In order to drive success, we must consider how all the pieces fit together: how our learners interface with the programs, materials, and experiences we deliver can be just as important as what we deliver.
In this session, Randah will draw on her extensive background in innovative learning solution design, to help you step into the experience of all those in your extended learning audience, and apply empathy to optimize the many touchpoints they have with your learning programs.
During the session the following questions will be discussed, and strategies presented to identify and optimize the learner experience:
•  How many places are there for your learners to 'go' in order to find training?
•  How do you – and other parts of your organization – communicate with learners before, during, and after their participation in training or skill development programs?
•  While learners are in 'class' – both synchronously and asynchronously, how are they engaged, supported, and encouraged to collaborate?
•  What core principles dictate the learner experience from end to end, and are these consistent in the voice and tone used with your learning audience?
•  What other areas of friction or impediments to completion are lurking across the experience?
Session D105: Create Virtual Classrooms that WOW Learners
Creating a great virtual classroom takes thoughtful design and iteration. While technology can connect learners and instructors, it also creates new challenges around interaction and engagement. Join the Adobe Connect team to learn some strategies for creating highly engaging virtual rooms and learn some new tips on using layouts, custom pods, and power features to create great learning experiences.