Adobe Connect 9.7.5, coming in Early March, brings with it a set of exciting improvements to both the Adobe Connect application and Adobe Connect Central. In this release we focused our efforts on further transitioning towards HTML5 within the administrator console and improving the login process, audio output selection, the installer, and much more. Read on to understand the full details of Adobe Connect 9.7.5.
Easily Keep the Adobe Connect Application Handy
After downloading the new installer and double-clicking on it from the desktop, users will see a new installation interface with a refreshed look and feel. Inside of this new installer is the ability to place a desktop icon on your home screen and/or a shortcut on your Start Menu.
Join Meetings Faster than Ever
The meeting entry field now stores the server URL of your most recent meeting. Instead of typing a long string of identifiers now you need only to enter the name of the room you are attempting to access.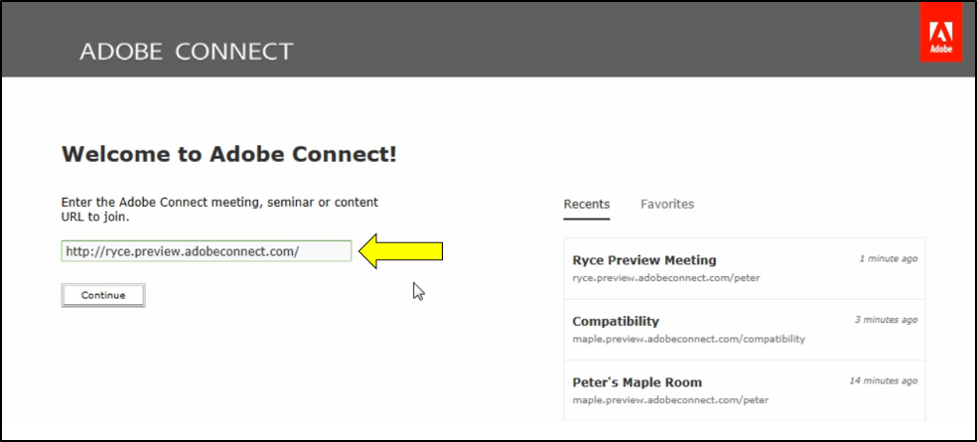 Rapidly Clear and Re-organize your Favorite and Recent Meetings
Users can now clear items from these lists so to ensure only the most relevant items stay at your fingertips.
Securely Store Login Credentials for Rapid Meeting Entry
By checking the box "remember me on this computer" Adobe Connect will now securely keep track of user's login credentials. Gone are the days where scrambling to remember an obscure password causes you to arrive to a meeting room late and feeling frazzled.
Improved Control over Audio Output when Multiple Options are Available
Windows users can now select exactly which device they would like to have as their audio output. Previously, there was no way to change this setting other than adjusting your operating system's default from outside of an Adobe Connect room.
Meeting Running Late and Need to Join Another? No Problem
The power of CNTRL+N, so useful in so many applications, yet so illusive in the Adobe Connect experience, until now. With the new application on windows you can now use this keyboard shortcut to launch a new meeting room, all without having to leave the one you are presently in. Users will find this especially helpful in situations where a meeting is running late and you would like to join another room and notify others of your tardiness. Here's a handy page detailing all of the keyboard shortcuts available in Adobe Connect.
Missing the Calendar View in Adobe Connect Central? Choose to 'view the old experience'
With the release of 9.7.5 we are giving users the ability to revert their view of Adobe Connect Central back to the Flash based experience which includes a calendar view of past and upcoming events. When you return to Adobe Connect Central after closing your browser window it will now remember that you had opted for the old Flash based experience and automatically open to it.
More Filtering Control: Start Day Columns
You can now sort your meetings in descending order based on their start day, improving your ability to understand what's to come at a glance.
More Filtering Control: See Only Meetings Created by you
A new toggle option in Adobe Connect Central now allows you to filter to view only meetings you have created.
Rapidly Gather Information about Your Recordings
Within the 'My Recordings' tab users would previously only be able to launch their recording. With this release mousing over the recording URL now gives you the ability to navigate directly to its information page.
Audio Profile Settings, now in Beautiful HTML5
In this release we transitioned more of our Adobe Connect Central components to HTML5, including the audio profile tool. Users can now access all of their audio profile information through a newly redesigned interface with no dependencies on Flash in your browser. See below for the different look and feel, with the first image displaying the original experience and the second image showing the new one.
We're so excited to share these new features with our customers and users can expect to see these changes starting in early March 2018.
Additional Resources in Support of 9.7.5
To find out exactly when  your instance of Adobe Connect will be updated to 9.7.5 navigate to the upgrade widget found here and enter your account URL.
To see a video demonstration of the Adobe Connect Application upgrades in 9.7.5 navigate here.
To dive deeper in to the details of the release of Adobe Connect 9.7.5 review the release notes found here.
To download the new Adobe Connect Application for Windows or Mac navigate here.