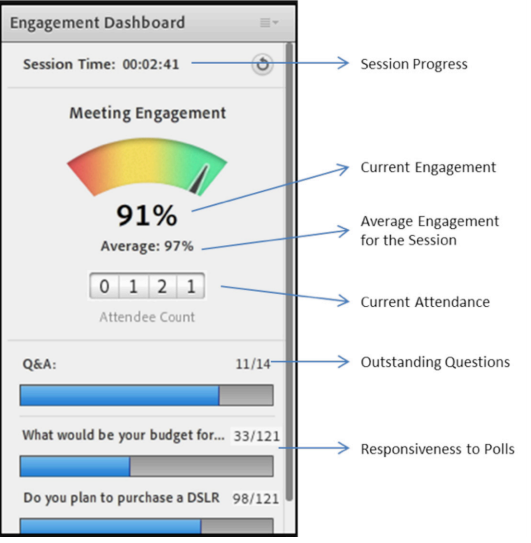 Have you ever wondered whether your content and presentation style are truly resonating with your audience during a virtual meeting, or is everyone just off writing emails and texting friends to make weekend plans? Our latest release, Adobe Connect 9.6, lets you take the guesswork out of these questions.
With this release Adobe Connect Meetings hosts now receive full access to the Engagement Dashboard, a powerful tool that analyzes participant's attentiveness and provides a real time visualization of this data.
An undeniable benefit of in-person meetings is that managers have the ability to stay abreast of participants' focus levels through visual cues – the Engagement Dashboard from Adobe Connect replicates this feedback mechanism in a digital setting. By continually monitoring several different types of participant activities the dashboard displays key insights throughout every meeting.
Hosts can start taking advantage of this feature today by starting an Adobe Connect meeting opening the 'Meeting' menu, choosing 'Enable Presenter Only Area', then navigating to the 'Pods' menu, and selecting 'Engagement Dashboard'. The dashboard will immediately appear in your Presenter Only Area on the right hand side of your room.
If you find yourself looking for additional details on the specifics of how we aggregate participant activities for the dashboard or are in search of more ways to bolster engagement with your team during virtual meetings you can take a deeper tour of the feature by reading our Rules of Engagement article found here.