New E-Signing Pod for Adobe Connect enables live document signing within your online meetings
We're excited to announce a powerful new integration between the Adobe Connect web conferencing platform and EchoSign, Adobe's electronic signature solution, developed by eSync Training, an Adobe Connect authorized training partner and developer.
One of the biggest game changers in speeding up business processes has been electronic signature technology – enabling documents to be signed securely and easily from anywhere, eliminating the time and costs involved in sending documents back and forth via overnight mail or fax. EchoSign enables this and streamlines the process further by supporting workflows for multiple signers, automatically generating a full audit trail of the process, and securely archiving the signed documents for easy access.
Adobe Connect web conferencing enables organizations to improve productivity and drive critical business processes by enabling instant collaboration, easy access to key documents, rich interactivity, and the flexibility to tailor or embed the meeting experience directly within specific business workflows.
Through the E-Signing Pod for Adobe Connect, get real-time document review, signature, and audit, right from within a live Adobe Connect online meeting, powered by Adobe EchoSign.
Step through and collaborate around documents leveraging review and annotation tools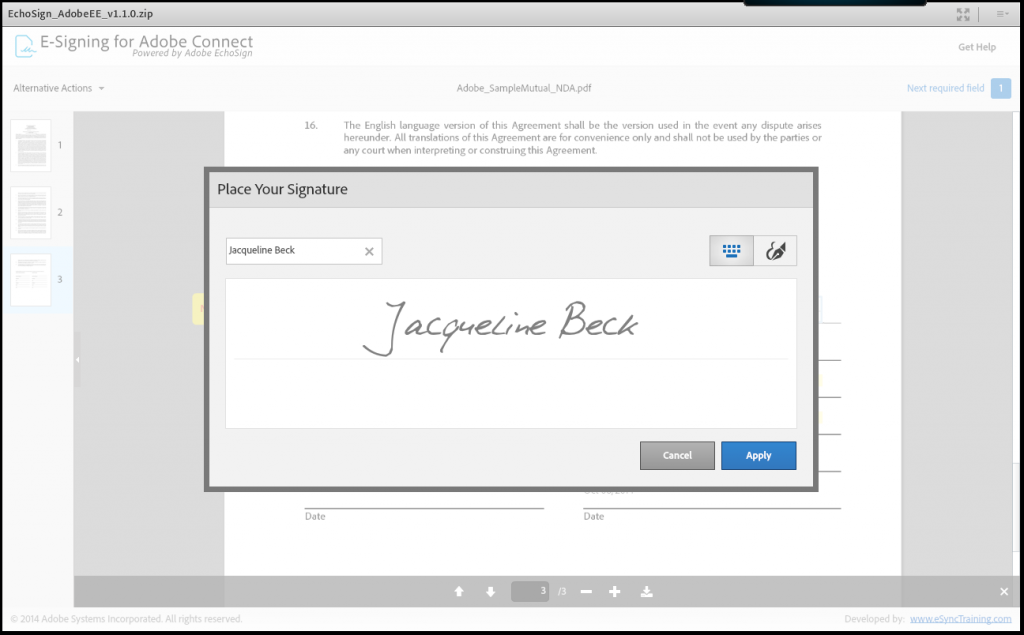 Capture signatures in real-time during the meeting while sharing video and voice for enhanced authentication
Record the signature process for auditing and review
Send out documents for signature directly from within Adobe Connect for signature any time
There are a variety of use cases for this technology that we've heard described by Adobe Connect customers excited about this integration – from sales teams that want to review contracts virtually, but also capture signatures and ultimately close business directly within in the meeting, to realtors that want to get business done more efficiently through virtual meetings, but also complete the paperwork to speed up transactions.
Another great example is in law enforcement, where agencies want to cut back the time to execute police warrants.  The integration revolutionizes this process, enabling a judge to visually swear in a police officer, sign the required documentation, and have a recorded audit trail of the event, reducing a process that is normally 4 to 12 hours, to as little as 10 to 15 minutes.
We're thrilled that EchoSign integrated with Adobe Connect will help customers move business faster through these important workflows.
The integration is available now, and requires Adobe Connect and Adobe EchoSign, as well as the integration (E-Signing Pod for Adobe Connect).  The integration itself is available for a fee, starting at $250 per host per year.
To learn more about the E-Signing Pod for Adobe Connect and how it can help you drive your business forward, please visit www.esynctraining.com/EchoSign.