Alongside Adobe Connect, Experience Manager Communities delivers mobile and social learning workflows, forming a complete social learning solution.
We're excited to announce the availability of Adobe Experience Manager Communities – a SaaS offering for creating social communities in a turnkey fashion, specifically geared toward social learning and field and channel enablement.   We announced the offering earlier this year at our Adobe Summit EMEA.
Many of our customers leverage Adobe Connect to deliver virtual training, and there are several key trends we have continually heard as we listen to their experiences.  The first is that learners are increasingly mobile.  There is an expectation, especially for those out in the field – that content is available for them at the moment of need, and in small chunks that can easily be consumed and applied on the spot.
Another trend is that knowledge is increasingly being exchanged in a peer-to-peer fashion – with anyone at any given time being a subject matter expert, and in the next moment a learner.  Tools such as Adobe Connect, Presenter, and Captivate, or even video cameras on mobile devices and desktops make it easy for anyone to author and share content.  However – pushing out content one-way, without the ability to solicit feedback or contributions to the content from those consuming it, can result in poor quality.  A more agile approach can be far more effective, where the audience forms a learning community, and members not only consume content, but add comments, insights, questions, and even their own content – so that knowledge is freely exchanged from peer-to-peer and distributed instantly.
This is where Experience Manager Communities comes in, providing a simple way for trainers, marketers and subject matter experts to publish educational content to a community, facilitate knowledge exchange across devices, and measure results.
The offering supports both formal and informal learning scenarios – enabling content publishers to assign content to specific users or groups, or make it available to be freely browsed and consumed.  Adobe Connect classrooms can be shared as resources, enabling them to be easily surfaced or assigned to users, along with social interactivity to keep discussions going.  In addition, video, Adobe Connect recordings (MP4), documents, external links, and SCORM-based eLearning content (HTML5 and SWF) are supported.  Learner progress and scores can also be tracked for certification.  Soon, xAPI (Tin Can) content will also be supported, as well as APIs to integrate scores and data into third-party systems of record.
Support adhoc or formal training workflows; share a variety of content types – including Adobe Connect classrooms and recordings; and track training.
The offering is not simply another social network for the enterprise – but a purpose-built solution for creating social communities for exchanging knowledge across internal teams and partners.  It starts with the ability to easily manage and share content, powered by Experience Manager Assets capabilities, enabling content to be effectively organized and leveraged across teams.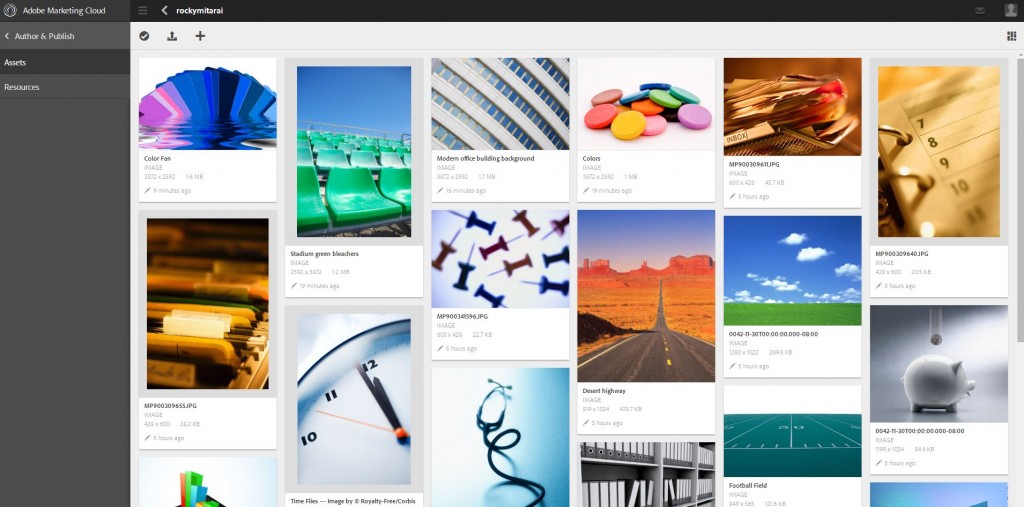 Streamlined asset management makes it easy to organize and share content across audiences
Core to the success of a social community is the content that resides within it.  In addition, even if there is a plethora of interesting content, if it's not readily surfaced, it's likely to go unnoticed.  Experience Manager Communities surfaces personally relevant content for each individual, helping to engage community members and enticing them to return and continue to participate. A customizable catalog enables content to be browsed in a variety of ways, and the interface is streamlined with assigned, recommended, and viewed content so that it's found without spending time searching.
Rich, useful content makes communities more valuable
The offering was built with mobile in mind as a first-class client, which is critical for those in the field who need access to information at a moment's notice.  It's available for iPad in its first release, and enables users to find and access content, complete courses, interact with others, and gain insights at the moment of need. And soon, users will also be able to download content for offline viewing and tracking, even when disconnected from the network.
Socialize and learn from anywhere with complete mobile access
Social interactivity enables a critical feedback loop to occur around content – so that it's not a one-way push of content across an audience, but a continuing discussion.  However, if it's not simple, it is highly likely that members will not participate, and the discussion critical within a community will dwindle.  Experience Manager Communities enables social interactivity to happen directly while viewing content, so users can immediately add questions, comments, ratings, and other insights without going to another screen or joining a specific forum to do so. This streamlined method of interactivity makes it easy to share insights, encouraging knowledge sharing across peers and experts.
Enable social interactivity in a way that increases the knowledge of members in the community
Finally, leveraging rich reporting capabilities from embedded Adobe Analytics technology, insights across content engagement, community interactivity, and individual member progress through content are instantly surfaced, with graphical interpretations of trends for quick decision making.
View real-time insights into the value of the community, content, and progress of the community and members
Experience Manager Communities can be deployed as an on-demand, stand-alone offering, and leveraged immediately without any customization, development, or prerequisite Adobe products sold separately.  In addition, the offering provides an ideal way to add social and mobile learning capabilities to Adobe Connect virtual classrooms, enabling a complete solution for social learning supporting both live and on-demand training scenarios.
In addition, it can also be purchased as an add-on to, and integrated with, a broader deployment of the Adobe Experience Manager platform and the Adobe Marketing Cloud. A separate blog post from the Adobe Marketing Cloud team can be viewed here.
We're already working to develop the next set of capabilities on top of the Experience Manager Communities platform, and deeper integrations with Adobe Connect to make the combined social learning solution even more powerful – so stay tuned and we'll be in touch.