I'm very pleased to let you know about the next release of Adobe Connect. We're planning on making version 9.3 of Adobe Connect available to our customers in early fall and it's packed with exciting new features for every use case.
Here are some of my favorites.
Screen Sharing Improvements
Screen sharing is the most common activity in an Adobe Connect room, so we put a lot of effort into helping customers stay engaged in what's happening in the meeting while they're sharing their screen. To that end, we're introducing a new screen sharing control panel that enables someone who is sharing their screen to see a preview of what's being shared, control the video and the audio in the meeting, manage participants, interact with chat as well as see and respond to any notifications.
The screen sharing control panel is launched automatically, but it is only seen by the individual who is screen sharing and it can be moved around to ensure it's not blocking any content. Customers who prefer a full-size preview on a second monitor can click the arrow in the top-left corner to return to the meeting and use the old method. You'll never have to ask "Can you see my screen?" again. You can see a video of the screen sharing control panel here.
In addition to the new screen sharing control panel, Adobe Connect 9.3 makes it easier to determine what is about to be shared. When you choose to share your screen, you're now given a preview of what you're about to share. For example, on the Desktop tab, you can see which screen you'll be sharing if you have two monitors. On the Windows and Applications tabs, you'll see a preview of all of the different applications and documents that are available. You can select one or more of these. Even better – once you start your screen share, Adobe Connect will automatically highlight what is being broadcast in the meeting.
Life-like Whiteboard
Adobe has an incredible legacy of creating some of the best drawing tools on the planet for both desktop and mobile apps. In Adobe Connect 9.3, we're leveraging that technology to make our own tools for drawing and annotating much better. We've created a consistent experience between desktop and mobile and we've designed the interface to work well whether you're using your finger, stylus, or mouse. In addition to much more precision, you'll see some new tools that are available – like new pen and pencil tools that join our improved marker and highlighter. You'll also see a brand new color picker and the ability to arrange layers.
Customers can now use their virtual whiteboard the same way they would use a physical whiteboard in a classroom. When combined with a mobile device, it makes for an easy way to write equations or notes.
Guided Hints
Adobe Connect is incredibly feature-rich, and we wanted to make it easier for customers to discover some of those features. In Adobe Connect 9.3, we're introducing a series of guided hints to help our easily accomplish some common activities. The hints change based on your role – and many of them are animated to show customers exactly where to click. We think you'll love them, but you can turn them off with a click of a button if you don't.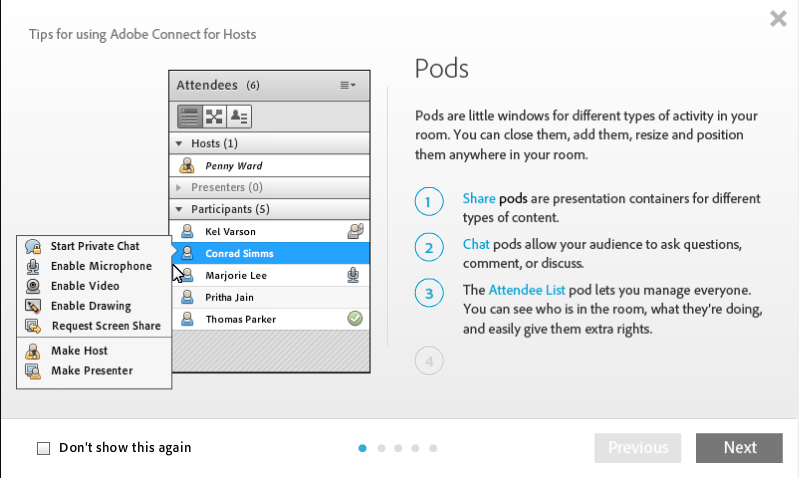 More Social Media Integration
With Adobe Connect 9.2, we added the ability for customers to use their social media profile (Facebook or Google) to register for an event. This eliminated the need for users to remember yet another username and password combination. In Adobe Connect 9.3 we wanted to extend that functionality by enabling our customers to crowd source event promotion. Events can now be customized to include Twitter and Facebook buttons to spread the word about your event.
In addition to using social media to promote your event, we've also got a new social media pod that's available now. The Social Stream pod brings the conversation from Twitter and Instagram right into your meeting. The host can configure specific hashtags to search for and even post to Twitter directly from the Adobe Connect room. The pod is synchronized with all of the other participants in the Adobe Connect room. The pod works with Adobe Connect 9.2 as well, so you can download it today.
Email Reports
Event analytics have become one of the most critical features of Adobe Connect. In Adobe Connect 9.3, we've added a new downloadable report to give our customers more insight into the emails that have been sent out. This report not only shows which emails were sent, to who, and when, but includes a status indicator to let the Event Manager know if the email has bounced back or if the customer has opted out. In fact, the ability to include an opt-out option for email is another new feature we've added to Adobe Connect 9.3.
More Integrations
We've also made Adobe Connect more efficient by adding integrations with SalesForce.com and Microsoft Lync 2013.
Customers who use SalesForce.com to manage their leads will no longer have to wait until after the event to manually upload a list of leads. A new saleforce.com app will soon be available for Adobe Connect 9.3 customers which will enable them to see all of their Adobe Connect events and registrations immediately within salesforce.com. Customers can even invite their existing salesforce.com leads to an event and many Event analytics will be viewable in salesforce.com to help our customers qualify leads. You can see a video of the integration here.
We took this opportunity to expand our Microsoft Lync 2010 integration and we'll be releasing a new MS Lync 2013 add-in with Adobe Connect 9.3. This add-in enables customers to quickly jump into an Adobe Connect meeting room directly from their MS Lync contacts list.
More Everything
Those are some of the top new features – but you'll see even more improvements as your account is upgraded in early Fall including an improved dial-out dialog for customers using integrated telephony, the ability to turn on audible chat notifications, additional options when in the Attendees pod, and much more.
Requirements
One of the things we're not changing is the version of Flash Player required to attend an Adobe Connect 9.3 meeting. We're maintaing the requirement of Flash Player 11.2 that we introduced in Adobe Connect 9.2. That being said, we always recommend upgrading to the latest version of Flash Player when possible. Mobile users can continue to use Adobe Connect Mobile to participate in and even host Adobe Connect meetings.
We have developed a new add-in for Adobe Connect 9.3 that will be required for presenters and hosts to take advantage of these great new features. We've already posted the new add-in on our Downloads and Updates page. You can start using it immediately to prepare for Adobe Connect 9.3 in early Fall.
As we get closer to the release, we'll provide more details around timing. Until then, we hope you're as excited about some of the great innovation that's happening on Adobe Connect as we are. Let us know your favorite new feature in the comments.