Today, I'm extremely pleased to announce the next release of Adobe Connect 9.1.
Although this is a "dot release", it adds more than twenty new features to Adobe Connect and resolves more than one hundred issues. The release notes, available here, contain all of the details, but I'll describe some of the highlights in this post.
In terms of timing, Adobe Connect 9.1 is available today for our on-premise customers. We've also begun rolling out the upgrade to our hosted accounts. We've setup a widget on our downloads and updates page that will give you a more specific timeframe as to when your account will be upgraded.
What's so great about this update is that virtually every new feature is based on feedback from our customers. We've listened to what our customers have told us is important and taken this opportunity to deliver those features starting today. These new features impact virtually every part of the product, so I'll group them into four sections: recording & playback enhancements, audio & video enhancements, event module enhancements, and training module enhancements.
Recording & Playback Enhancements
Adobe Connect Mobile – our mobile client for attending live meetings, seminars, and virtual classrooms has been a tremendous success. We're proud to be one of the highest rated web conferencing apps in both the iOS App store and Google Play store. The most common feature request for our mobile app is adding support for viewing recordings. With Adobe Connect 9.1, we wanted to go even further than that. Rather than adding functionality to our mobile client, we're offering a new server-side conversion service that will automatically convert your Adobe Connect recordings into the universal MP4 format, host them in the cloud (on your Adobe Connect server), and stream them to any device.


This means that you don't need to download or install a mobile client to view the recording – MP4 is native to virtually every mobile platform. Simply click on a link and Adobe Connect can automatically stream the video directly to the mobile device.
This approach also enables you to download the MP4 so that it can be distributed locally or used with popular video sites like YouTube and Vimeo.
The conversion is done completely on the server. The meeting owner can simply choose to 'Make MP4' and the recording will be added to the queue for converting. The meeting owner can them come back a few minutes (or hours depending on how many recordings are in the queue) later, and the MP4 will be waiting for her.
This new server-side MP4 conversion is a paid service that is sold based on number of minutes converted. This service is only available to customer using an Adobe Connect service hosted by Adobe.  Customers can purchase conversion minutes in packs of 5,000 by contacting their reseller.
In addition to the MP4 recording service, we've also given customers the ability to passcode protect their public recordings. This gives you complete control over who can access a recording. You can set it to private requiring everyone to log in with a unique username/password, you can set it to public requiring no authentication, or you can set it up as a public recording requiring a shared passcode. Rather than logging in, a user must enter which passcode the meeting owner has created.
If you've moved your meeting recording to the content library, Adobe Connect 9.1 delivers improved tracking. You can now see who's accessed the recording and how long they viewed it.
Audio & Video Enhancements
We looked at how customers use audio in their Adobe Connect meeting rooms – some use integrated audio from our audio conferencing partners, some use our universal voice feature to incorporate audio from any audio conference, and others use voice over IP with their own microphones. In all cases, we saw opportunities to make the audio workflow more intuitive and easier to use for meeting hosts and participants.
We've renamed the old 'Audio' preference to 'Microphone' since it was specific to using VOIP and microphones. More importantly, we've added a new 'Audio Conference' section in the preferences menu. This new Audio Conference section gives meeting hosts access to virtually all of their audio configuration settings – something that was only available in the web application (Adobe Connect Central) previously.
You can now begin collaborating much more quickly since the audio settings are completely persistent. You can set them once and they will persist with the rest of your room and content.
You're also now able to change your audio settings on the fly. There's no need to end the meeting to switch audio profiles; simply choose a different audio profile from the drop-down listbox. We've even added a new link to help you manage your audio profiles.
If you're using an integrated audio conference, you've now got complete control over the visibility of the dial-in and dial-out information. For example, you can use integrated audio, but only display the dial-in information to other hosts and presenters so that participants will have to listen via their computer speakers.
Not only are all of these settings persistent, but you can have Adobe Connect automatically start the audio conference each time you begin a new meeting. If you'd prefer, you can ask Adobe Connect to remind you each time you enter your virtual room.
If you're using our Universal Voice feature, you'll notice it's now 'smarter' about when it connects to the audio conference. With Adobe Connect 9.1, the UV connection will only connect when necessary – for example when you want to record the meeting or broadcast the audio.
If you're using a microphone and Voice Over IP, you'll now find it much easier to select which microphone you want to use. Adobe Connect now provides an easy-to-use drop-down menu to select your microphone and it will remember your selection for future meetings. The same is true of selecting a webcam.
Speaking of webcams, you'll see a new feature in the video preferences section that enables meeting hosts to choose between 16:9 or 4:3 ratios. With the rapid adoption of HD webcams, this has been a popular request from customers and we're delighted to be able to further increase video quality in Adobe Connect.
Event Module Enhancements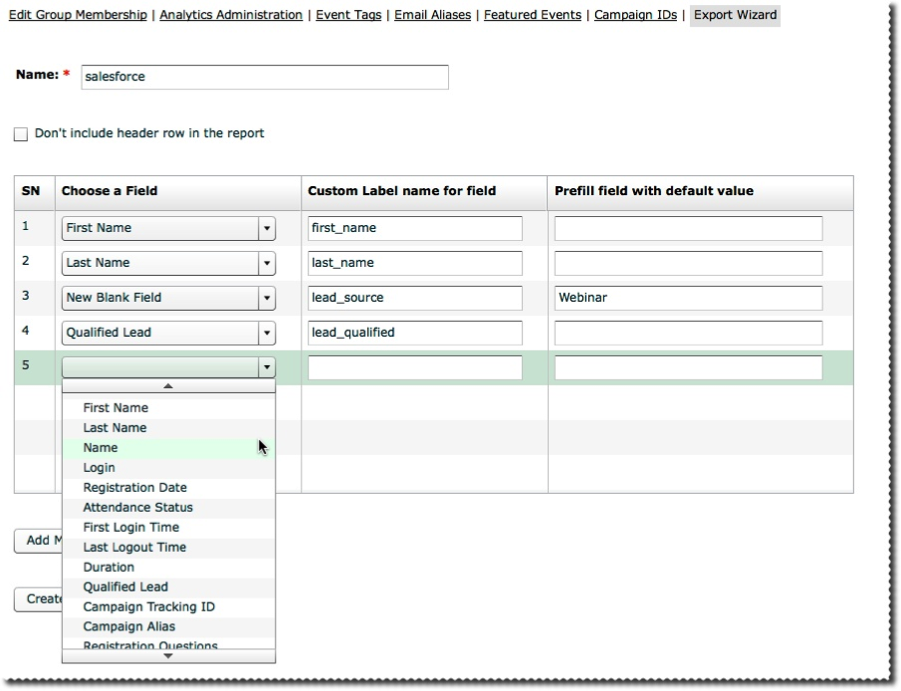 When we launched Adobe Connect 9.0 last year, we made huge changes to the Event module – enabling customers to create gorgeous event microsites to register users and provided in-depth event analytics to optimize their webinars. We've continued to innovate on this functionality based on customer feedback. For example, we've added new capabilities around our campaign tracking. Now customers can create friendly aliases for their campaign id's to make reports easier to see and reuse commonly used campaign ID's across all events for aggregate reporting on common campaigns. We also now generate all of the custom URL's you need based on the campaign ID's you've elected to use.
In an effort to further improve our reporting and analytics functionality, we've created a new Export Wizard for the downloadable event reports. Customers can now determine which fields should be included in these reports, the order of the fields, specify custom labels, and even provide default values. This functionality can help our customers quickly integrate Adobe Connect with their own CRM or lead tracking system.
Other changes to the Event module include the ability to customize the text included in the .ICS attachment of an email invitation, providing private event template access for Event Administrators, and better reporting of participation from mobile users.
We've also now given Event Managers the ability to use the Engagement Dashboard in any of their meetings.
Most importantly though, we've streamlined the way our customers can schedule seminar rooms with a brand new seminar session scheduler. We're also requiring that all seminar rooms are scheduled beginning with Adobe Connect 9.1. Please see our previous blog post for more information.
Training Module Enhancements
We also looked at how we could make customers using Adobe Connect for Training more productive. We've copied the functionality around 'Meeting Templates' and brought it to Virtual Classrooms. This feature will help customers save time by creating new virtual classrooms that are pre-configured with the right layouts and content based on template. These templates can be re-used across multiple classrooms to make everything not only faster, but more consistent. We've also added breakout rooms to templates in Adobe Connect 9.1.
This version of Adobe Connect also brings several improvements to the Training Catalog. Students who have self-enrolled in a course through the training catalog can now withdraw their enrollment. We've also improved the way content is displayed in the catalog. Courses can be listed in multiple folders for better discovery and time zone information is now clearly displayed.
Another new feature for Training Managers is the ability to import a list of training enrollees from a comma separated values (csv) file.
As you can see, there are a tremendous number of new features in this release – and this is far from an exhaustive list. You can view the release notes for a complete list of new features and see which issues have been resolved. We've also put together an on-demand presntation using Adobe Presenter which walks through the new features here. We hope Adobe Connect continues to exceed your expectations and thank you for being a customer.
Adobe Connect is a web conferencing platform, powering complete solutions for web meetings, eLearning, and webinars, on any device.