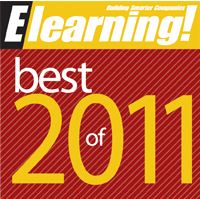 Yesterday, at the Enterprise Learning! Conference & Expo, the Best of Elearning! 2011 awards results were announced. Program recognition is significant because nominations and winners are determined by executives and business managers engaged in the areas of enterprise learning and workforce technology.
We're very pleased that Adobe Connect has been recognized in two categories:
Best Web Seminar Solution – Winner
 "Nice interface, great performance that allows in-depth learner interactions."
Best Virtual Classroom – Winner
Nominations and voting were conducted over a three month balloting period. Given both the quality of competition and quantity of nominations – this year featured 1,750 nominations, covering 56 products across 20 categories – we thank all who took the time to vote and support Adobe Connect!
To read more about the awards and results, please see the press release from the Elearning! Media Group here.
And if you're not already following us on Twitter, check us out @AdobeConnect.
-Randah McKinnie, Principal Product Manager