Today, we've begun upgrading customers using the hosted version of our product to Adobe Connect 8 Service Pack 1 (SP1). For customers already on version 8, SP1 will provide new user experience enhancements based on valuable feedback since the release of Adobe Connect 8. If you have not yet been upgraded to Adobe Connect 8, you will be upgraded directly to Adobe Connect 8 SP1 per our migration schedule. For information on the timing of your upgrade, please visit our migration center here. On the right-hand side of the page, mid-way down you can enter your Adobe Connect meeting URL and learn more about when your server is expected to be migrated.
Adobe Connect 8 SP1 introduces enhanced web conferencing functionality, highlights of which include:
Enhanced Attendee List Pod
The attendee list pod now enables users to easily identify the number of attendees under various roles, such as hosts, presenters and participants, as the categories now show numbers next to the attendee groups. The default behavior is now to have the groups expanded and you can now easily identify mobile attendees (as displayed in the image below) by the phone icon next to their name. Also, all authenticated users are displayed with an attendee icon in a yellow shirt, while unauthenticated users (guests) will have icons with a blue shirt.
Layout Bar
A new layout bar (see image below) allows for a host to easily manage and switch between meeting layouts. The layout bar is now defaulted to be located on the right-hand side of the screen but can be docked on the left or right. At the bottom of the layout screen are simple icons a host can click to go into prepare mode or to add a layout. The layout bar shows up whether or not the Presenter Only Area is open but can be hidden if the host does not want to use the feature.

Q&A Pod
Presenters can now replicate the Q&A pod in the Presenter Only Area. In the top right of the Q&A pod, click on "pod options" and select "Move Presenter View to POA" (see image below). The Q&A pod will now show up in the Presenter Only Area with presenter view. This allows hosts and presenters to easily view the incoming questions and answer while the meeting is in session.
Application Blacklist Capability
The ability to control information being shared with participants is critical in a web collaboration environment. This new capability mitigates the risk of human error by allowing the administrator to pre-define a list of applications that can't be shared with meeting participants. It provides the ability to:
• Select applications that are prevented from being shared
• Grey out/hide these applications during secure desktop sharing
• Prevent such applications from being part of any meeting recording
Breakout Rooms
New, increased capacity enables a maximum of 20 breakout rooms for up to 200 people and improved breakout notification for participants. Note: for meetings with an integrated audio provider, the number of breakout rooms is limited by the number supported by the respective audio providers.
H.264 Video
With SP1, Adobe Connect now supports the use of video formatted for H.264 via a share pod. The new functionality allows for larger video file playback and stunning-quality video.
Videos may use this format:
800×496
1:1 (1/2 for screen cap only)
H.264
Progressive
Square
Main
3.1
VBR, 2 pass (multipass if available)
536 kbps
650 kbps
(every 3 sec)
Audio
New functionality introduced in SP1 makes the use of audio even more simple. All conference audio is now managed from the Audio menu. If you are using integrated audio or a universal voice provider (telephone and VoIP), you will see the "Start Meeting Audio" option to initiate audio functionality within your Adobe Connect room (see image below). If there is no audio profile associated with the meeting, you will not see this option; you can still use VoIP for such meetings. As a host, you determine which audio features can be used during your session. Choose "Using Computers" to broadcast from your computer microphone or choose "Using Phone" to connect to your telephone audio conference. Select both if some of your presenters will be using their computer microphone and some will be on the telephone.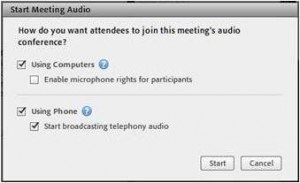 Additional Usability Enhancements:
• Persistent display of important notifications ensures that hosts and participants never miss out on an important event in the meeting
• Hosts can access a single info icon to see all pending notifications and take actions on them
• Revamped Presenter Only Area (POA) allows presenters to view the complete meeting room and its content even while using the POA
• Hosts can now provide the whiteboard as an additional advanced participant right for increased collaboration
We hope you'll enjoy the enhancements of Adobe Connect 8 SP1. And, again, please check out our migration center for additional information and to look up the expected timing of your upgrade.
As always, we look forward to your thoughts in comments or on Twitter @AdobeConnect and @ConnectSupport.
Amy Brooks, Adobe Connect Event Producer
Update 4/13/11: Release notes for Adobe Connect 8 Service Pack 1 are now available on our web site. You'll find them here.
Update 4/21/11: New resources about Service Pack 1 have been added to the connectusers.com site here. They include a feature overview document and two video tutorials.