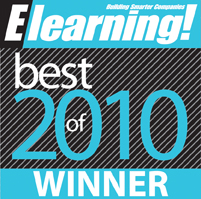 Votes have been cast and the results are in – we're thrilled that Adobe Connect has won both the Best Web Seminar and Best Virtual Classroom categories in this year's Best of Elearning! awards program.
Best of Elearning! recognition is particularly noteworthy because nominations and winners are entirely determined by the readers of Elearning! magazine – executives and business managers engaged in the areas of enterprise learning and workforce technology.
Nominations and voting were conducted online during August and September. Given both the quality of competition and quantity of nominations – this year featured 1,730 nominations, covering 37 companies and 67 products – we're thankful to all of you who took the time to vote in support of Adobe Connect!
You can read more about all the award winners, including us, on the Elearning! site here.
And if you're not already following us on Twitter, check us out @AdobeConnect.