By Randah McKinnie, Sr Product Manager
Just as Adobe MAX 2010 kicks into full swing, and following the release of Adobe AIR for Android, I am thrilled to announce Adobe Connect Mobile for Android is now available in the Android Market. Now you can attend Adobe Connect meetings from your Android device. Literally collaborate anytime, anywhere, as you participate in chat conversations, view slides and presentations, and watch live video feeds of any number of meeting participants.
And all this for free!
We hope your colleagues, team members, and customers find it convenient to have yet another great option to jump in to an Adobe Connect meeting even when on the move.
Please download the app today and try attending the next Adobe Connect meeting on your schedule from an Android device. We hope you enjoy the experience, and encourage you to provide feedback and enhancement requests by joining in to our Adobe Connect Mobile user community forum: http://www.connectusers.com/forums/cucbb/viewforum.php?id=53
And, remember we also have an Adobe Connect Mobile application for Apple iOS devices; it's been available since February 2010. We've updated the application a few times since then, including just in the last few days. You can read more about it on iTunes Preview here.
Features of the Adobe Connect Mobile meeting attendance app:
Attend any Adobe Connect meeting that is accessible from the web
Listen and speak over two-way VOIP audio
Join the meeting's conference call for two-way telephone participation
Watch the presentation in real-time and high resolution
Watch streaming videos presented in meetings
Live chat with other participants and Q&A with hosts
Watch live video streams of meeting participants who are broadcasting their cameras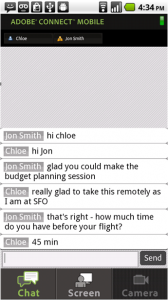 Product Forum and Release Notes 
System Requirements
Android v2.2 and above
Adobe AIR for Android
Current certified devices: Google Nexus One and Motorola Droid
(While we have not yet tested against other Android devices, we expect they may also run the application just fine.)
 Reading this on your PC?
Scan this barcode with your Android device to download.
 
Click here to view the app in the Android Marketplace
Reading this on your Android device?
Click here to download from your Android device.
And if you're not already, follow us on Twitter for the latest on Adobe Connect: @adobeconnect.