In Connect 9.1 the Invitation TAB is replaced with Sessions TAB in seminar room.
Problem Description :- In the earlier versions of connect ( 9, 8 or earlier ) we use to have an Invitation TAB in Seminar section using which a host can send an invite to all the participants,hosts,presenters listed in Edit participant TAB by selecting from a drop down as shown below in the picture :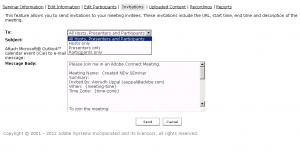 Now in Connect 9.1 This Invitations TAB is replaced with Sessions TAB in Seminar Section.
Solution:
In the new version of Connect 9.1 to send an invite to ( participants, hosts and presenters) the workflow has changed. Now when the user creates a session, the only option they get is the below screen shot where when user Press the "Send Now" button it launches an Outlook message with only Host email in the TO: field. The rest of the email's for ( participants, hosts and presenters) user needs to populate manually.
Initially we used to have Participant Management functionality for Invitation TAB however now since we have replaced that with a new Session TAB which does not have a Participant management functionality because every seminar session will have a different set of participants and currently there is no way to specify participants per session, user has to send the invite through their default mailbox/mail server for instance Outlook, Gmail etc.
Thanks